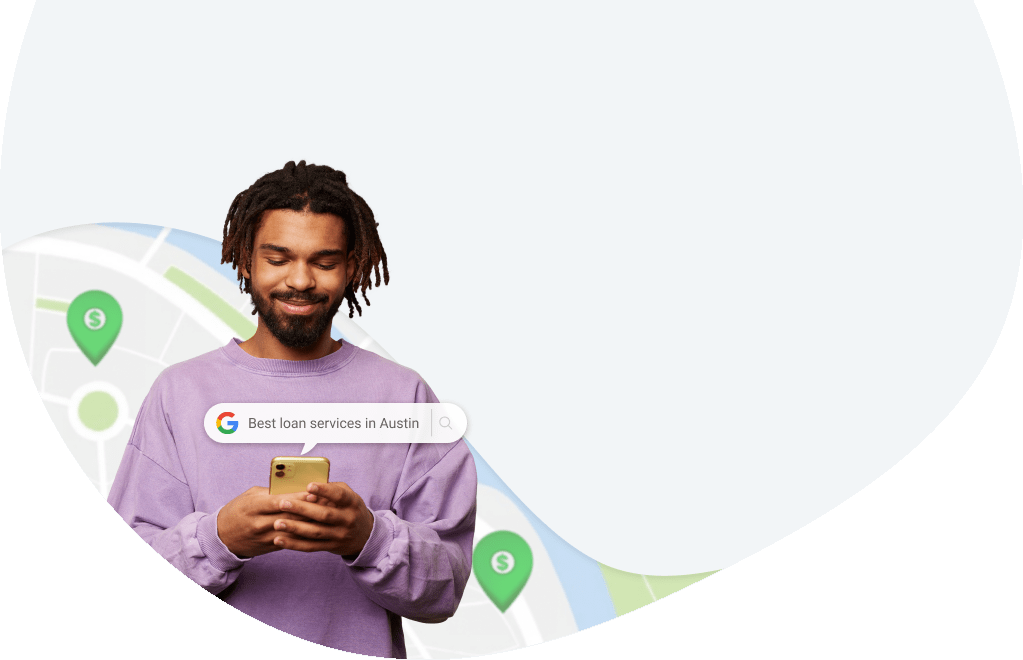 Payday Loans in Austin, TX 78703
Do you need emergency cash yet have bad credit? Loans from 15M Finance are ideal! Within a day, we can assist you overcome financial problems or bridge the gap between paychecks. Obtaining a payday loan in Austin with us is always simple and quick. Visit our location and fill out an application to receive multiple offers from reputable direct lenders! We know how to get your money to you within one business day.
15M Finance Store in Austin
If you are in a financial emergency and require immediate help with money, 15M Finance is here to make it possible. Austin people can come to our store whenever they need money. We are always delighted to assist you in determining the best option for your unique scenario.
1004 W 6th St, Austin, TX 78703
(737) 241-3988
Monday – Saturday: 8:00 am to 10:00 pm
Sunday: 10:00 am to 4:00 pm
We are a Local Business dedicated to help Texas residents!
We are delighted to help locals with any credit improve their financial health at 15M Finance. Our customers frequently discuss their borrowing experiences with us, which helps us improve. Visit the following platforms to discover more about the offers.
Our products and services
Payday Loans
A payday loan is an unsecured loan used to bridge the gap between paychecks. You can borrow up to $1,000 and repay it within a few weeks, usually on your next salary. As payday loans are lightning-fast, people usually use them for financial emergencies. They do not require a hard credit check and hence accept all credit kinds.
Title Loans
In exchange for security in the form of your car title, a title loan can supply you with cash at a fair rate. You can borrow up to 50% of the market value of your vehicle and repay it within 31 days. You can also utilize your automobile while it is pledged.
Installment Loans
An installment loan is a versatile financing solution designed to meet your long-term financial requirements. It has greater loan amounts and longer repayment terms, making it easier to manage even on a tight budget. You can obtain the funds with any credit and use them for a variety of life situations.
Get a Payday Loan at Other Branches
Are you not in Austin? We can still assist you in obtaining a bad credit cash advance quickly! 15M Finance offers handy locations in various Texas cities, so you are welcome to visit one near you. Don't want to waste time going to the store? Apply online through our website and get accepted in minutes from anywhere in the world.
Looking for a Texas payday loan? 15M Finance provides its services around the country, thus you can find us in other states. Check out the locations listed below!
Eligibility Criteria for Getting Loans from 15M Finance
To get an online loan like a payday loan, installment loan, or title loan from 15M Finance, you must comply with a specific set of eligibility requirements. How to get a payday loan online might differ from state to state due to some specific state regulations. But generally, the payday loan requirements are as follows:
Be at least 18 years old; Have an active checking account and Social Security Number; Show proof of income (at least $1,000 per month); Provide a phone number and an e-mail address.
How to Apply for a Loan Through 15M Finance
As 15M Finance payday loans were created to meet your urgent money needs, the application process is typically very fast, and you can do it online and offline. All you need to get a short-term loan is to:
Fill out an application form. It takes you less than 5 minutes to enter your personal data and submit the loan request form. Feel free to ask our branch manager if you have any questions during the application process.
Get an answer. We will check your data quickly and respond with a loan decision in less than 15 minutes. If approved, you will get a loan offer.
Read and sign a loan contract. Your loan agreement contains important information about your loan terms and conditions, interest rates, additional fees, and repayment period, so you should read it carefully before signing, especially if it is your first loan. If everything is clear and the conditions meet your expectations, sign a loan agreement.
Receive the money. Access a payday loan amount in your bank account before the next business day. You must repay the loan amount plus interest by your next paycheck.